Copper prices on the rebound, driven by market enthusiasm
Doctor Copper Says: copper price dynamics to monitor the economy
Published by Alba Di Rosa. .
Energy
LME
Copper
Doctor Copper Says
After a low point touched on Monday, November 28, during this week the price of copper has shown signs of recovery, returning to the average levels recorded in recent months. In particular, the price listed on the Shanghai Futures Exchange (SHFE) has shown a 3.9 percent rebound in recent days, compared with a 4 percent increase for the price listed on the London Metal Exchange (LME).
Let us then delve into the events of the past few days that have affected the price of copper.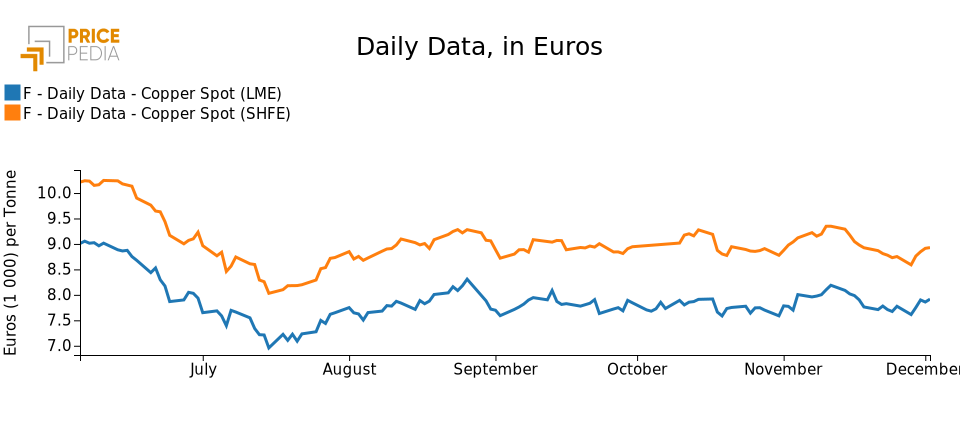 Tensions on Chinese front push authorities to ease restrictions
As reported last week, increased restrictions linked to the new wave of Covid cases in China have met with growing dissent. SHFE-listed copper hit a low point on Monday, hurt by the increase in cases and numerous protests in multiple cities against zero-Covid policies. The event that catalyzed the protesters' anger was the Thursday, Nov. 24, fire at a building in the Xinjiang region that led to the deaths of at least 10 people, whose escape was reportedly hampered by the restrictive sanitary measures in place.
Against a backdrop of growing dissent, a few days later authorities disclosed their decision for a change of course, removing lockdown measures for several districts that had experienced an increase in cases, and giving back room for expectations of an easing of quarantine protocols. News was quickly mirrored by the recovery of copper prices.
What the numbers also testify clearly, however, is how the return of the dreaded lockdowns in recent weeks has hurt the country's economic activity, weighing on production and demand. November's Caixin China Global Manufacturing PMI (Purchasing Managers' Index) data of 49.4 was still below the 50 level of balance between growth and decline assessments: thus, for the fourth consecutive month, it signals a slight deterioration in the health of China's manufacturing sector, in a generally weak global environment.
As a matter of fact, no signs of optimism come from November's global manufacturing PMI, as well: the index hit a new low point, its lowest value in 29 months. In this case, weighing on the index is not the pandemic factor first and foremost, as is the case in China, but rather the decline in international trade flows and persisting cost pressures.
US monetary policy: rising rates, but with moderation
Financial markets, and the related price of copper, also continue to be influenced by US monetary policy developments.
As reported weeks ago, US monetary authorities had made it clear that further rate hikes were still necessary, having not yet achieved the goal of price stability. A few days ago FED Chairman Powell declared that the time is ripe to moderate the pace of the hikes: the announcement was enough to cause a positive reaction from the markets, which saw in it a more dovish stance for US monetary policy, although Powell also specified that the path will be long and rates could reach higher levels than initially expected.
Eurozone inflation focus
Staying on the price front, in the last few days Eurostat released preliminary estimates for Eurozone inflation in November, finally recording signs of a slowdown. After the peak of 10.6 percent in October, a YoY price increase of 10 percent is estimated for November.
The main determinant of the slowdown in the overall index is inflation on the energy front, down from 41.5 percent in October to 34.9 percent; however, the climb in food continues (13.6 percent, up from 13.1 percent in October), compared with stability for services and non-energy industrial goods. The Energy Financial Index (Europe), shown in the chart below, confirms this trend.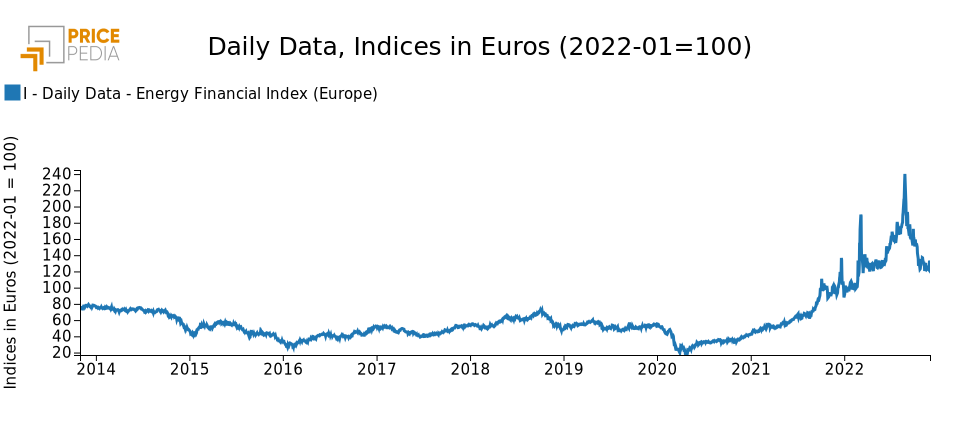 Conclusions
Despite modest weekly fluctuations, copper prices have maintained relative stability above pre-Covid levels in recent months. Analyzing these prices from a long-term perspective, stripped of inflationary dynamics, current copper prices appear to fit within the historical average. While experts anticipate an increase in the near future linked mainly to the green transition, the current gloomy economic climate seems to play a major role in limiting this acceleration.
You may be interested in: