Copper price keeps swinging
Doctor Copper Says: copper price dynamics to monitor the economy
Published by Alba Di Rosa. .
LME
Conjunctural Indicators
Copper
Non Ferrous Metals
Doctor Copper Says
After the increase recorded last week, in recent days the price of copper has reversed its trend and moved downwards: in particular, price has fallen by 2.9 percent on the London Metal Exchange (LME) and by 2.4 percent on the Shanghai Futures Exchange (SHFE), compared to the closing values of Friday, April 14.
From a medium-term perspective, copper thus confirms its sideways trend, providing no signs of a decisive rise or fall.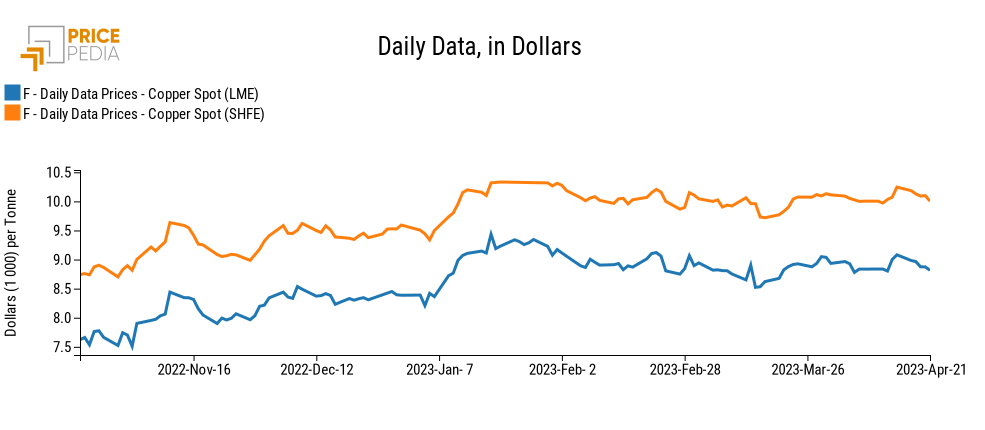 China's GDP growth doesn't fire up markets
Let us then look at the news of the last few days, which have driven the return of copper prices to more moderate values.
Among the data released this week, we can find China's GDP growth in Q1-2023, which marked a 4.5 percent year-on-year increase: this is higher than analysts' general expectations, as well as the most significant increase since Q1-2022, when GDP grew by +4.8 percent. Nevertheless, copper prices do not seem to have celebrated this result by reacting upward.
According to statements from the National Bureau of Statistics of China, China's economy has shown a good rebound after the inauguration of a less stringent pandemic management policy in late 2022. The latest GDP data for Q1-2023 report, in particular, a 5.4% year-on-year increase for the value added of services, a major beneficiary of the easing of health measures, compared with a more modest increase for the industrial sector (+3%). Also significant was the increase recorded in Q1 by retail sales (+5.8% YoY).
Industry thus shows a less dynamic recovery compared to the tertiary sector; instead, weakness continues for China's construction sector, which in turn does not provide support for Doctor Copper. In fact, data show a 5.8% YoY contraction for investment in real estate development in the first three months of 2023.
Chinese GDP: year-on-year growth rate (2021 Q1-2023 Q1)
Source: StudiaBo elaboration on data from National Bureau of Statistics of China.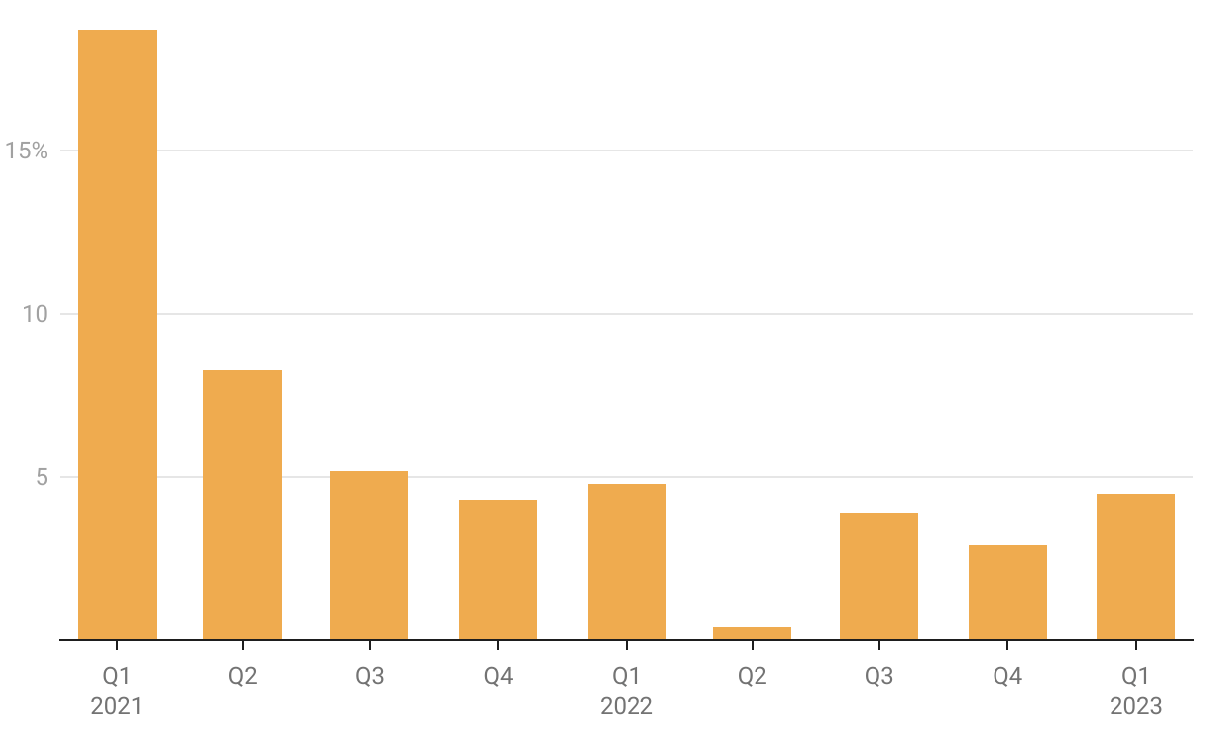 The news of China's GDP recovery thus provided no particular support for market mood, and consequently for the price of copper: indeed, the statistical agency's declarations of a growing GDP were coupled with those of a "complex and volatile" international situation, in the face of domestic demand and economic recovery that have not yet embarked on a solid upswing.
Against this generally uncertain backdrop we can also find the price of gold, which has remained fairly stable at high levels in recent weeks after the mid-March rise driven by the banking crisis.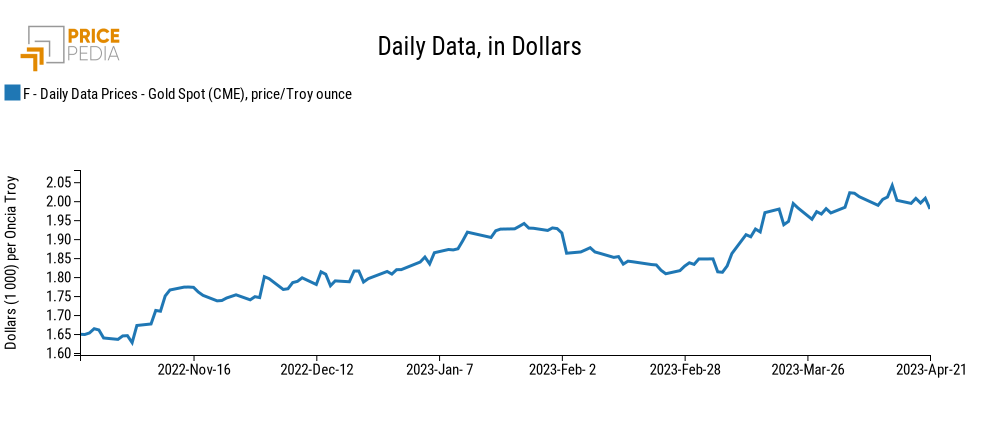 Declining volatility for value chains
Broadening our gaze outside of China, another useful indicator to monitor copper price dynamics, as well as the general economic environment, is the S&P Global Copper Users PMI: this is a composite indicator that provides an overview of business conditions for producers identified as strong users of copper.
Released last week for March, the index remains above its neutral level, thus signaling an improvement in business conditions, albeit more modest than the previous month (50.5, compared to 53 in February). The slowdown was largely due to weaker production and demand growth among Asian companies, while both US and European copper users reported a weaker deterioration in business conditions.
Looking instead at supply chain dynamics more broadly, we report the recent update of the GEP Global Supply Chain Volatility Index, an anticipatory indicator that takes into account demand conditions, shortages, transportation costs, inventories and backlogs.
According to the latest release of the indicator for March, global supply chains are currently operating more efficiently; in fact, we are at the lowest level of global supply chain "stress" since mid-2020. According to S&P, although global demand for raw materials and components remains subdued, in line with a general environment of uncertain economic growth, the trend is improving after hitting a low point in December last year.
You may be interested in: