Uncertainty and volatility remain on the scene
Doctor Copper Says: copper price dynamics to monitor the economy
Published by Alba Di Rosa. .
Exchange Rates
LME
Copper
Non Ferrous Metals
Doctor Copper Says
After the banking shock of recent weeks, which inevitably weighed on copper prices as well, signs of recovery have come from Doctor Copper in the last few days, in the face of a gradual easing of financial markets' tensions.
Updates include, in particular, the acquisition of Credit Suisse by UBS. More generally, signs of reassurance have come from European authorities, although volatility and uncertainty continue to preside over the financial scene.
Looking specifically at the price of copper, we can see how the price in dollars on both the London Metal Exchange (LME) and the Shanghai Futures Exchange (SHFE) has recovered by more than 3 percent from last week's closing values: prices have thus returned to last month's average values.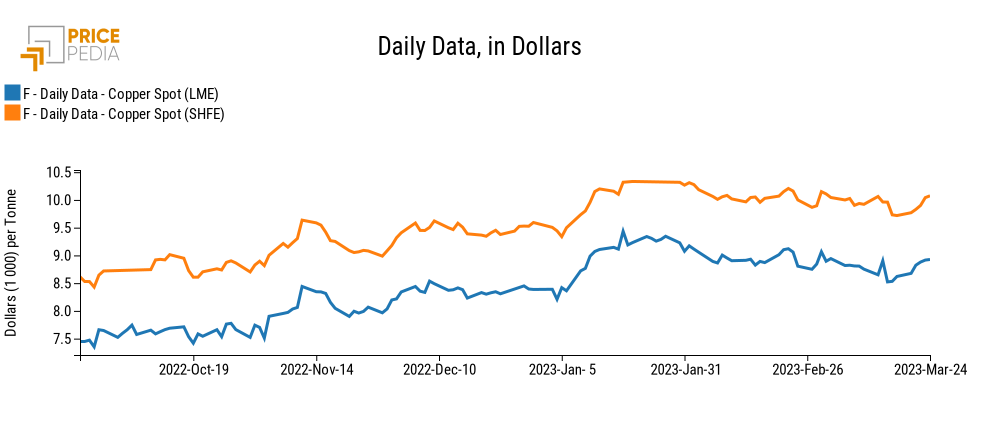 Along with reassurances on the banking front, a weakening dollar and positive signals from Chinese demand helped support the copper price.
News from China
Chinese copper demand keeps showing signs of improvement. Indeed, a reduction in stocks at the SHFE is confirmed again this week.
An increase in the Yangshan copper premium in the second half of March is also reported, suggesting an increase in demand for imported copper in China. This is in fact a premium, paid on top of the LME copper reference price, for refined copper to be cleared through customs and imported into China through the Yangshan customs area in Shanghai.
Financial events
Among the week's financial events, the Federal Reserve meeting dominated the scene. In line with market expectations, the FED opted to raise monetary policy interest rates by 25 basis points: US rates therefore reached the range of 4.75%-5%, the highest since 2007. The message coming from the central institution is therefore that the fight against inflation is continuing, albeit against a backdrop of increased uncertainty.
Just as at the ECB did in its last meeting in mid-March, when rates were raised by 50 basis points, the FED did not clearly define a path for future rate hikes: in fact, a further increase has gone from being certain (as stated in February) to being possible, as reflected in the press releases of the last two FED meetings. For the time being, however, a rate cut for the current year is ruled out, as reported by Powell's statements.
The FED, as well as the ECB last week, also wanted to stress the soundness of the country's banking system in order to safeguard market sentiment.
Markets' reaction
Against this backdrop, the dollar reacted by marking a weakening, and thus making copper more attractive to holders of other currencies. In particular, yesterday the exchange rate with the euro touched 1.09 USD per EUR, and then fell to 1.07 today, returning to the levels of early February.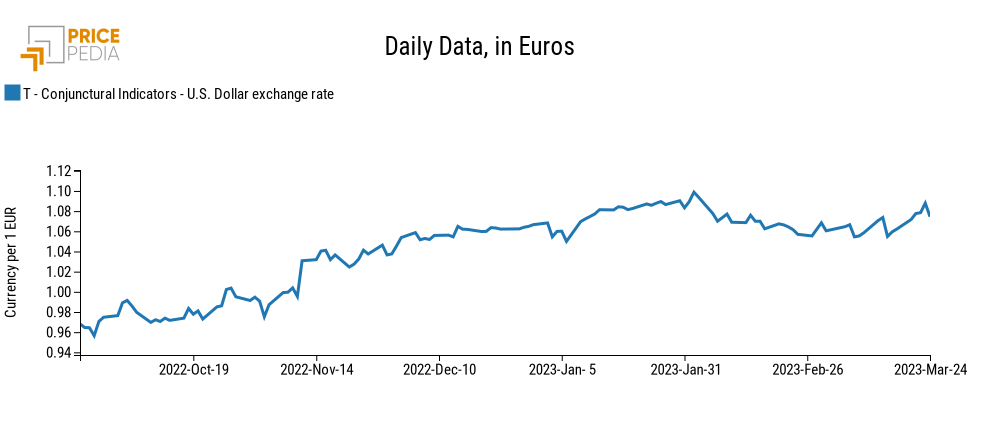 On the safe haven front, the rise in gold and silver prices keeps going, confirming markets' intent to protect against risk.
You may be interested in: