Signs of restart from the Asian giant
Doctor Copper Says: copper price dynamics to monitor the economy
Published by Alba Di Rosa. .
LME
Conjunctural Indicators
Copper
Non Ferrous Metals
Macroeconomics
Doctor Copper Says
In recent days, the price of copper has shown signs of recovery, after a slight slowdown in late February. Compared to last week's closing values, dollar prices listed on the London Metal Exchange (LME) rose by 1.6 percent, in the face of a smaller 0.4 percent increase on the Shanghai Futures Exchange (SHFE).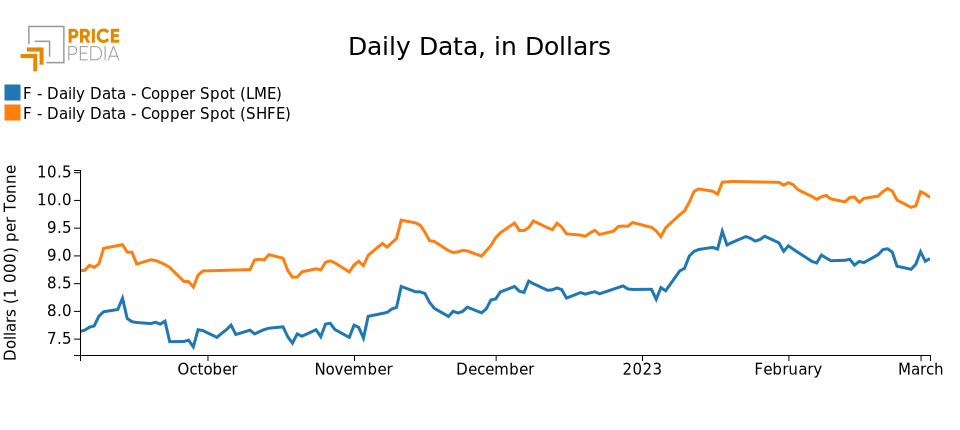 In particular, it was on Wednesday, March 1, that copper prices rallied to celebrate the release of the latest Chinese PMI data from both the National Bureau of Statistics of China and Standard & Poor's: indeed, clear signs of recovery for the month just ended came from both indicators.
The manufacturing PMI index released by the National Bureau of Statistics hit 52.6, the highest in a decade; the indicator for non-manufacturing activity rose, as well. Both indexes exceeded analysts' expectations, signaling the clear start of a phase of recovery.
Looking instead at S&P data (Caixin China General Manufacturing PMI), again the numbers suggest a return to growth for China's manufacturing sector thanks to the easing of restrictive health measures. Surveyed companies reported significant growth in both output and new orders, thanks to a solid recovery in operations and consumer demand. According to S&P data, the February PMI hit 51.6, thus surpassing the 50 threshold, up from 49.2 in January. Please note that while the national index was already showing signs of recovery last month, the survey conducted by S&P (which differs in terms of methodology and sample) had merely provided signs of an easing of pressure on the sector.
After the initial market enthusiasm related to news of recovery for the Chinese economy, the price of copper experienced a modest slowdown on Thursday. Indeed, the attention of traders and investors shifted to fears regarding the upcoming meeting on the agenda: "Two Sessions", starting tomorrow, is an annual parliamentary meeting that gathers representatives from across China to discuss and validate national priorities, and at which markets are watching closely for stimulus measures that could support China's economic growth and its demand for metals.
Overall, while the latest PMI data partially lifted the markets' mood this week, pushing up the price of copper, no clear signs of a turnaround are yet coming. Indeed, prices remain at the February average, and below the recent highs touched in January.
A glimpse of Europe
Broadening the analysis outside of China, we report the release of some useful statistics to monitor recent economic dynamics.
The second ISTAT estimate for Italian GDP in Q4-2022 was released today: it confirms a 0.1% QoQ contraction, while YoY growth rate remained in positive territory, amounting to +1.4%. Recession fears, which have been at the center of discussion for months now, are beginning to materialize, albeit in a very moderate way; this is the first contraction in Italian production activity since Q4-2020. Instead, YoY recovery keeps going, albeit at a progressively more moderate pace.
Domestic consumption contributed negatively to GDP, compared to a positive contribution from net foreign demand.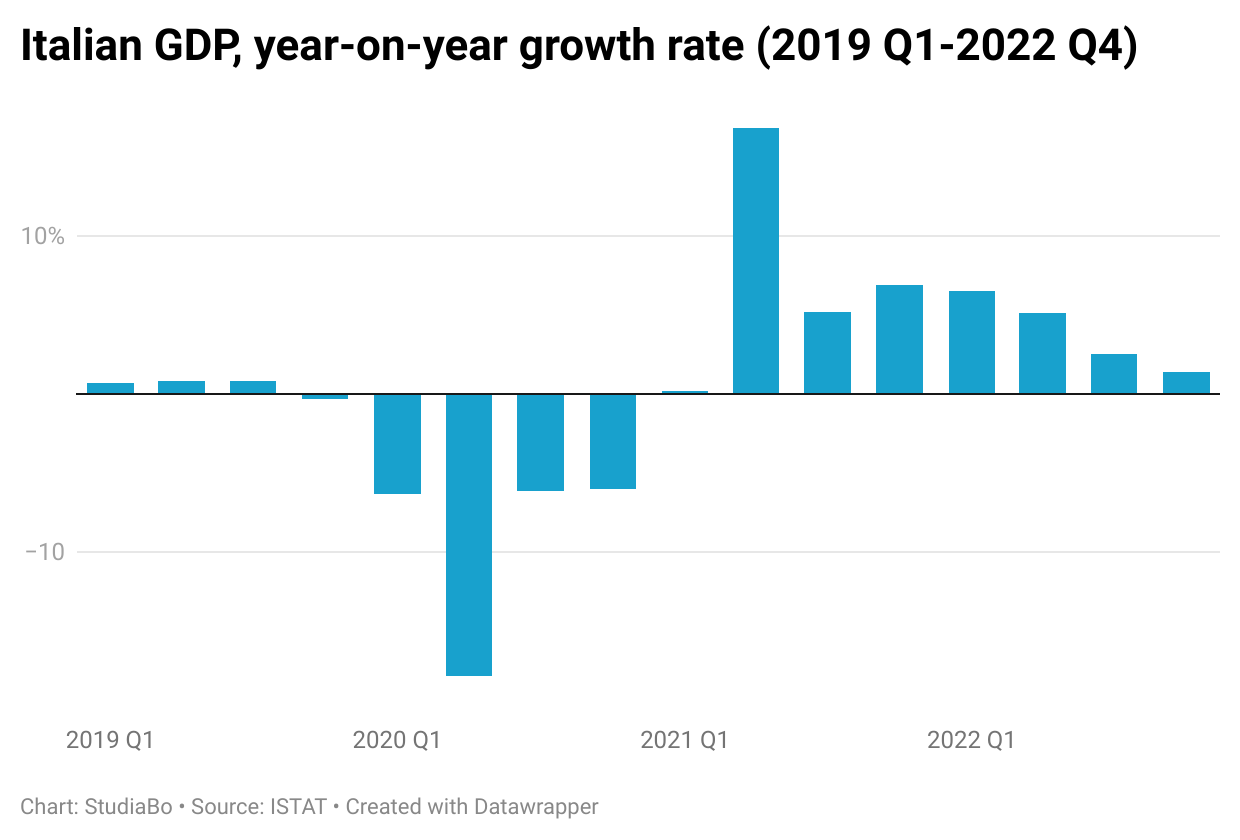 Also of note is the release of the February flash estimate for Eurozone inflation, which amounted to 8.5% YoY. It thus remains at high levels, albeit slightly slower than January's 8.6%. Core inflation1, on the other hand, confirms an upward trend, touching the all-time high of 5.6%.
Among the various components of the index, the Food, Alcohol and Tobacco sector recorded the largest increase (+15%), followed by Energy (+13.7%); more modest increases were recorded for the prices of non-energy industrial goods (+6.8%) and services (+4.4%). Compared with January, only the energy sector shows a lower inflation rate.
Last but not least, positive signs come from the S&P Global Eurozone Composite PMI: the Eurozone experienced an expansion in private sector business activity in February for the second successive month, reaching the highest level in 8 months. Business confidence is on the rise, as well, at its highest in 12 months, but below levels prior to the Russian invasion of Ukraine.
So, with the start of spring, signs of recovery seem to be coming from both EU businesses and the Chinese front, but the alarm bell of inflation remains front and center.
---
1. Core inflation considers all goods excluding energy, food, alcohol and tobacco.
You may be interested in: