Eyes on China
Doctor Copper Says: copper price dynamics to monitor the economy
Published by Alba Di Rosa. .
LME
Copper
Non Ferrous Metals
Macroeconomics
Doctor Copper Says
After the rise in copper prices observed in the first weeks of January, which clearly showed financial markets' enthusiasm early in the New Year, copper prices have shown signs of partial normalization in recent days.
Overall, compared to last Friday's closing values, the dollar price marked a modest rise of just over 1 percent on both the London Metal Exchange (LME) and the Shanghai Futures Exchange (SHFE).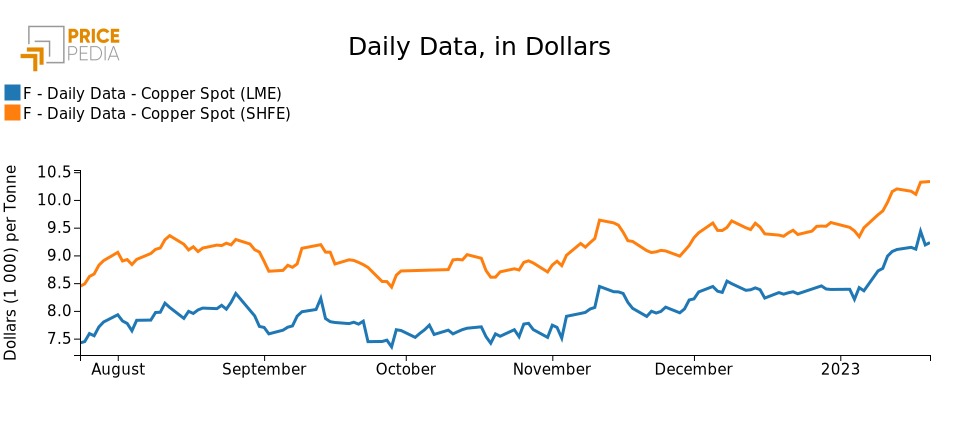 Market sentiment: signals from China
Markets' cautious optimism about the Chinese reopening remains in the field and continues to outweigh fears of recession. The main rise of the week was recorded on Wednesday, both at the LME and the SHFE.
The country's stock market indexes, which have reversed their previous trend of substantial stability since late December, also confirmed their current upward trend.
Chinese stock market indexes
Source: DailyDataLab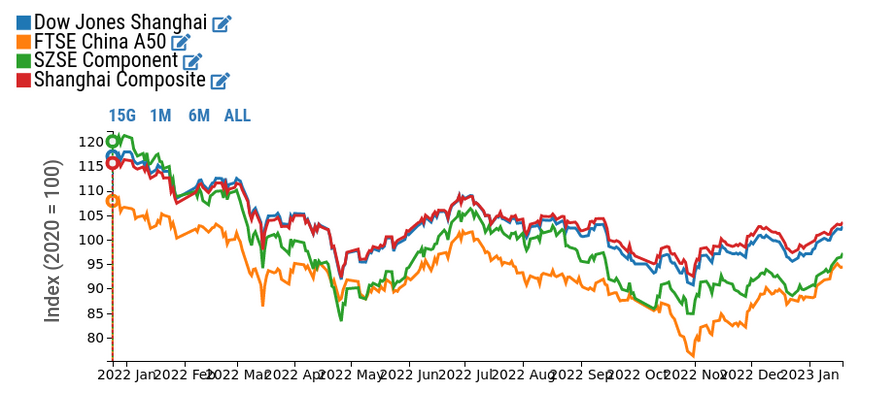 The Chinese recovery remains, in any case, marked by uncertainty. Beyond current market sentiment and related expectations, the coming months will indeed need to see an increase in copper demand, amid a general restart of the Chinese industry, to confirm the current bull market price rises.
The most recent data released by the National Bureau of Statistics of China provide, for the time being, signs of a slowdown for the final months of 2022. It was only a few days ago that preliminary data on China's Q4 GDP was released: the Bureau estimated a +2.9% QoQ increase, slowing from +3.9% in Q3. The Chinese economy thus remains in positive territory, in the face of an inevitable slowdown in growth rates, which have been penalized by the pandemic wave.
Signs of a slowdown also came from the latest data on the manufacturing PMI, which has been slowing since the fall months and hit a new low point in December.
Manufacturing Purchasing Managers' Index China
Source: National Bureau of Statistics of China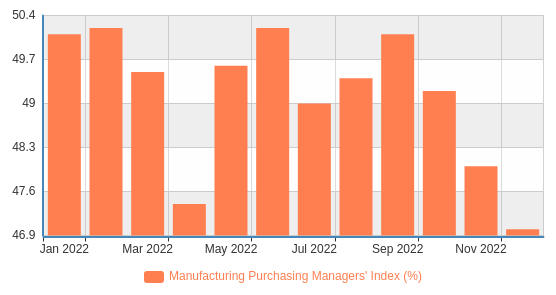 For the time being, however, the International Monetary Fund is confident that the Asian giant will rebound starting in Q2 2023, according to recent statements in Davos by Deputy Managing Director Gita Gopinath.
News from South America
In addition to the central Chinese issue in influencing the price of copper, there are also some concerns on the supply side related to recent protests in Peru. Indeed, the country has been witnessing popular protests since December related to the ouster and arrest of former President Castillo, partly impacting the supply chains for several commodities.
Some concerns also came from Chile: Antofagasta, a Chilean mining company, reported this week that copper production in 2022 was more than 10 percent lower compared to 2021.
You may be interested in: